IN PRINT
The Carver Group has made a reputation for its spectacular interior trim work and attention to detail by locating unique and reclaimed building products at competitive pricing. To learn more, please read the articles "In Print" below.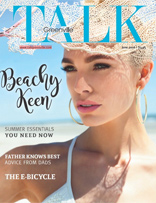 "All about the details"
Russ and Leslie Desjardins' Reserve at Lake Keowee home
honors history while embracing the present.
Talk Greenville
June 2016