In Print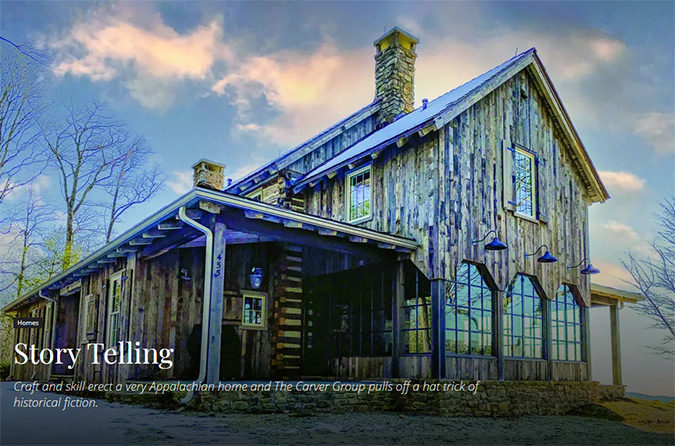 atHome Magazine
/ by Brendan Blowers
/ photography by Joann Benzinger
Historical fiction is a genre of writing that mixes imagined scenarios with historical settings to take readers on an original journey through the past. This home takes a page from the genre.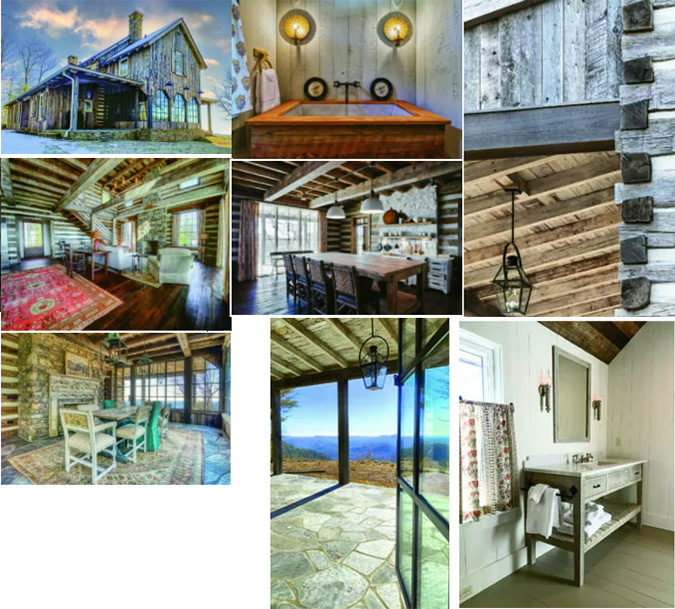 "My goal was to be able to take somebody up here, have them walk through the door, turn around and ask, 'How old is this house?" says Craig Carver, owner of The Carver Group, an Upstate custom home builder.
Carver often creates imagined histories for his projects. "My passion is for new homes that look old," he says, "I've been blessed to have clients and architects that have a vision for that type of home."
A finish carpenter turned custom homebuilder, his 37 years in the business has always been hands-on. Carver says he can't recall a day when he hasn't picked up a piece of reclaimed lumber to admire its patina.
When he talks to clients about what they want in a custom-build, he looks for a detail from their past that might spark the story of their home. "Maybe there's a childhood memory of something," Carver says, "If there's a story, that makes my job even better."
This project was for a repeat client. In the first house he built for them, Carver put in a dining room that looked as if it used to be a porch. The concept this time around was to build a new home that looked like it was more than a century old in Highlands, North Carolina.
A population boom occurred in the 1930s when the Cullasaja River was dammed to provide hydroelectric power to the Highlands, and existing log cabins became sought after structures. Many were beautifully built by the hands of hardy pioneers who brought their Scotch-Irish, German and Scandinavian building techniques to the southern Appalachia.
Carver liked the idea of a log house for this project, one erected in these mountains, with a bedroom and bath added later to its front facade to accommodate a growing household. Even the upstairs would be made to appear like a later addition. From its placement on a clearing with five acres to its bird's eye view of Lake Jocassee, this exquisite mountain home today appears to have already housed many lives.
"It's all about the story," Carver says, "It's not about how the pieces come together, but how the plan would have developed over a century of different families living here."
Stan Dixon, an Atlanta-based architect, designed the plans for the main 2800 square-foot, two-bedroom wood frame house. He approached the design with the narrative of a cabin with a wrap-around porch that as time went on portions of the porch were filled in to create bathrooms, bedrooms and pantries. "We stayed close to this narrative to inform our decisions of materials and architectural details," he says. "This attention to detail led to many opportunities for interesting combinations of textures and materials. As we thought about it architecturally and not decoratively it reinforces the theme of authenticity instead of trendy or fake."
With Dixon's plans in hand, Carver next began the hunt for reclaimed resources, his favorite pastime. He sourced log skins from Utah. "We ended up using them both on the inside and outside," he says. This made the walls almost a foot thick, which helps with energy efficiency during chilly months. The logs came from Midwestern barns; they were hand hewed by the team's carpenters to give them a flat shape allowing them to connect like a Lincoln Logs set.
He heard about a guy in Massachusetts taking down an old mill. The decking from that demolition became the house porch ceiling planks, resized to fit without ever removing the original patina. They even hired a painter to artfully blend in the raw places that didn't match the rest of the well-aged wood.
The Carver Group prides itself on old world craftsmanship. To Carver, that term refers to putting molding up the right way, priming and prepping before putting anything on the wall, framing a room with joints that fit together so tightly, it looks like trim work. A craftsman's identity is almost inseparable from their craft.
These touches appear in every room. "I've got an Amish guy up in Ohio who's been building my doors for close to twenty years," Carver says. He makes each one-of-a-kind door from heart of pine. A brick mason, who specializes in using broken bricks in his fireboxes, made the fireplace so that the soot will accumulate in different places and appear to have been used for over a hundred years. The stairs were cut from wide timbers that looked too smooth and shiny when they were installed, so a floor finisher sanded them in step-shaped treads to give the look and feel of stairs that had been worn down naturally over time.
Even with all of this period detail, the home enjoys modern conveniences. An artisan in Atlanta made steel windows with insulated glass; there's a Wolf Range in the kitchen across from a farm table and white mortar wash stone above the sink; all of the cabinetry was custom built from reclaimed wood in Carver's shop.
Carver also enlisted Jeremy Schrock of Schrock's Custom Woodworking in Greenville to work on the home. "Jeremy's talent and skill were apparent to me early on," he says. "We've worked together on several large projects. He has a knack for creating box beams that look like old solid timber and I think he has a lot of fun doing it."
Schrock's team spent a couple of months crafting box beams from a large pile of old weathered heart of pine skins that Carver provided to cover the home's steel support structure. During installation, they would camp on-site to save on commuting time. "We'd sleep in hammocks in the van and make breakfast in the morning over an open fire." They also joined and installed the reclaimed solid beams that run across the ceiling.
"Everything I work on with The Carver Group is really a one-off, unique project," says Schrock, noting that this job was all fieldwork and very little was done in shop.
"The cool thing about this project is that it used modern engineering, but with all old surface materials to recreate the authenticity. These are the types of projects that appeal to the side of you that likes a challenge," says Schrock. "This one feels really special. It's a one-of-kind place for sure."
To appreciate what this home represents today is to revel in the nostalgia of mouth-blown glass, the beads of old paint and the smell of heirloom pine. Carver realizes it may not be for everyone, but he likes to partner with homeowners and craftsman who have the ability to do it the way it was done generations ago. "People put their heart and soul into it in the past, so that's how we do it."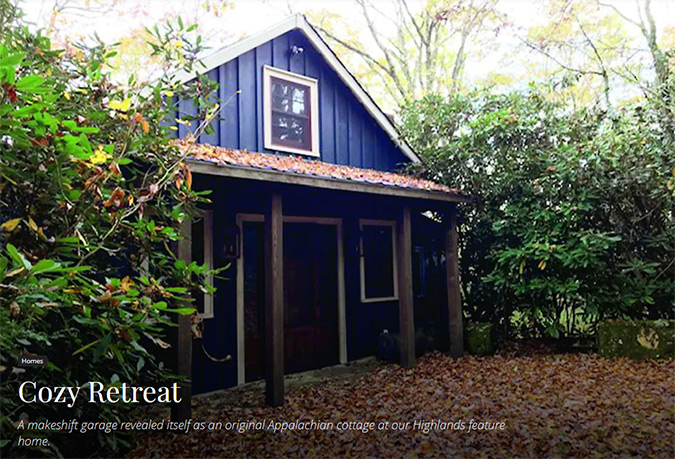 An 800-square-foot cottage stood on the property in Highlands before The Carver Group helped to erect the glorious main house. Craig Carver took on the cottage as his own project, working outside of the architects and designers.
It was being used for storage. At some point pecan paneling was added, a low acoustical ceiling installed and a manufactured oak floor. From the oil stains on the floor, Carver believes it was most recently used as a workshop garage. But the fact remained, the structure was left over from earlier settlers. "I suggested we gut the thing and look at it from the bare bones," he says.
When they uncovered the ceiling, a vaulted ceiling was discovered, and beautiful boards left for the roof decking. When they took the manufactured flooring up, original 12-14inch wide planks appeared.
Carver employed Jeremy Schrock to help with a particularly tricky task. Schrock added a box beam over a new structural ridge beam, tying it back to the original cottage beams making it look as authentic as possible. Both men are especially pleased with the result.
The cottage renovation took about eight months and now is used as a charming guest house.