In Print
Build/Architect March/April 2003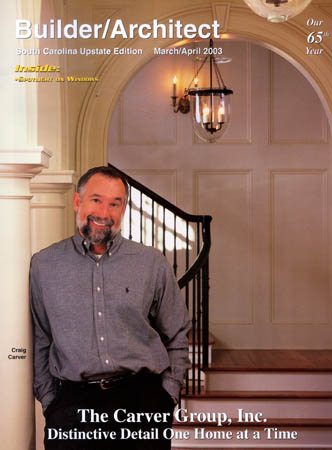 The Carver Group
Distinctive Detail One Home at a Time
By Melissa Morrell
There are almost as many definitions of the term "custom home" as there are builders and homeowners.
There are thousands of "customizable" tract or spec houses, which individuals may modify by selecting from a list of pre-priced options. A step up are architect-designed homes built for an individual owner from "off the shelf" portfolio plans. These can be built either as drawn or modified.
Rarer still are the home builders who build only custom homes individually designed by an architect working with an individual client.
The Carver Group of Greenville is in that small, elite category.
Since starting his own business in the late 1980s, builder Craig Carver has worked on only three spec houses. The rest have been not merely custom homes, but architect-designed custom homes, first in Greenville neighborhoods like Thornblade, Green Valley and Chanticleer, and now also in resort areas like The Cliffs Communities.
A Solid Foundation
Fine woodworking is the hallmark of every home The Carver Group builds and is the basis of Craig Carver's career path into his profession.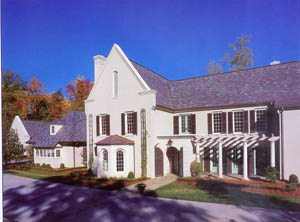 The Carver Group almost exclusively builds
architect-designed custom homes, such as this
European-style brick home in Chanticleer featuring
a real slate roof and limestone columns. It was
designed by Mark Maresca of Maresca & Associates.
Photo by Stephen Stinson Photography.
His grandfather was a carpenter. Craig was likewise blessed with a keen eye for detail and a contagious passion for home craftsmanship.
From such roots, Craig honed his natural talents after attending Bowling Green University. Relocating to Miami, FL, he worked his way up the ranks from apprentice to journeyman carpenter to project supervisor.
All of these posts involved working with custom homes of a size and level of luxury not seen until recently in Upstate South Carolina. On these Florida mansions, he undertook everything from his specialized talent in interior trim work, to installing roofs and windows and more. There wasn't a part of a luxury home Craig Carver didn't understand or appreciate.
"My time in Miami helped position me on the right path," says Craig. "I learned early in my career to always put quality and detail at the forefront."
Through a friend and lucky accident, Craig left Miami behind and moved to the Upstate. He earned his builder's license and launched his own business in 1984, installing millwork in numerous homes and businesses in and around Greenville.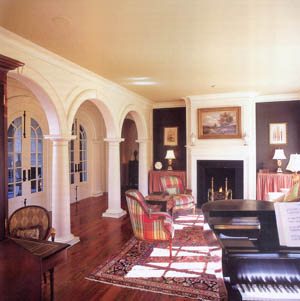 The interior features fine millwork trim and handmade arched doors leading onto the rear patio. Photo by Stephen Stinson Photography.
Over the next handful of years, Craig met and earned the confidence of many area architects. Through such relationships, he was able to land a series of progressively challenging projects.
Despite establishing his reputation in the marketplace, Craig was not content. He was convinced he could not only maintain control of the millwork but also personally build homes-in their entirety -better than what he saw in the area.
So, in 1989, he launched The Craig Allen Group, the precursor to The Carver Group.
Importantly, Craig never turned away from his first love. Interior trim work continues to be the backbone of his company. In fact, it's The Carver Group's primary selling point to manage all of the interior trim work for every home his company constructs. Such a pledge is unprecedented in the industry.
The project that really put The Carver Group on the map was the 12,000-square-foot home of pro golfer Jay Haas in Thornblade. That project gave Craig the opportunity he needed to showcase his talent and passion for excellence.
Word of mouth and referrals continue to drive The Carver Group's business development. Many of the referrals stem from the relationships established with local architectural firms.
Like the Haas home, Craig has gone on to build other upscale homes in such fine neighborhoods as Chanticleer, Collins Creek, Green Valley, Greenville Country Club, Kilgore Plantation and Lake Keowee, among others.
The Right Team and the Best Materials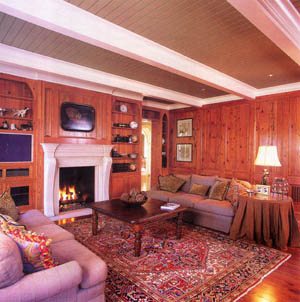 Vintage wood floors and custom paneling set off the
white limestone fireplace surround and mantel.
Photo by Stephen Stinson Photography.
To achieve such a level of excellence, Craig credits his team of master craftsmen and carpenters, who are at the highest end of their trade. In fact, like Craig, these craftsmen aren't the ones to frequent the lumberyard or local home center for building material and supplies.
They turn to the company's large pool of resources throughout the country to locate hard-to-find materials at competitive prices. The Carver Group also uses unique and reclaimed building products to make every home they build distinctive.
"We enjoy doing things differently than other builders," says Craig. "It's rewarding to us to research and find just the right material for a home. Each one is treated as a unique and special project."
In a Carver home, there's really nothing that's overlooked or rushed.
For instance, plywood subfloors are water-sealed during construction to deter damage that may occur during the framing stage. And, interior wall surfaces and trim are painted with rollers, not sprayers, for a more professional finish. Similarly, all interior doors are hung from "scratch." This process assures a better operating door and one that allows for more flexibility in custom millwork casings. Additionally, The Carver Group always looks for ways to preserve the natural surroundings of a home site.
Hands-on Approach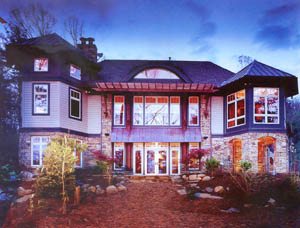 The rear elevation of this Lake Keowee home, a first place winner in Builder/Architect Magazine's 2003 "Best of the Upstate" competition, shows the complexity of the projects Craig Carver builds. Photo courtesy of Neal Prince + Partners, Architects, Inc., which designed the home.
With the growth of his business, Craig brought on board a project manager, Dave Parfitt, in 2002.
While Craig says he relies on Dave to be his "eyes and ears," he admits he's never too far removed from a project. In fact, Craig is well-known for his hands-on approach, which ultimately means greater quality for his homeowners.
Rounding out his own staff, Craig selects his subcontractors who are equally dependable and knowledgeable. In fact, each Carver project is assigned an on-site supervisor who works closely with the subcontractors from grading to the final punch list.
Craig recognizes he isn't the cheapest builder. His staff is the most qualified and the materials he recommends are of the best quality and thus command a higher price point...just like the homes he builds.
During the past several years, Craig and his team have built homes ranging from $800,000 to upwards of $2,000,000. Most take 14 - 16 months to complete.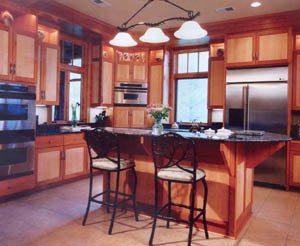 Photo courtesy of Neal Prince + Partners,
Architects, Inc.
Many of his homeowners are from out-of-state. In these situations, Craig takes full advantage of technology-providing routine updates and transmitting images of a home's progress via e-mail.
The Carver Group usually has four homes in various stages of construction at any one time. This allows Craig and his staff to pay particular attention to detail and workmanship, especially in the finishing stage when perfection is of utmost importance.
"We pride ourselves on having never adopted the "mass production" style of home building that is so prevalent today," says Craig. "With our approach, we can promise that a home will not only be of superior quality, but the homeowners will also receive the personal service they deserve. Plus, the project will run smoothly, stay within budget and finish on time."
Whether a homeowner is in the land or selection phase, planning phase or contractor selection phase, The Carver Group can serve as a valuable resource and partner.