In Print
athome IN THE UPSTATE Fall/Winter 2009 pp. 65 - 69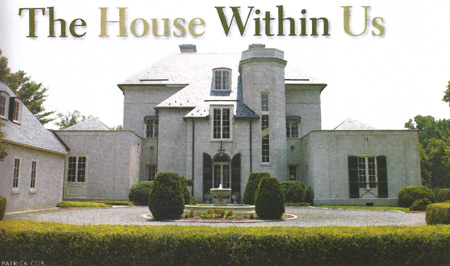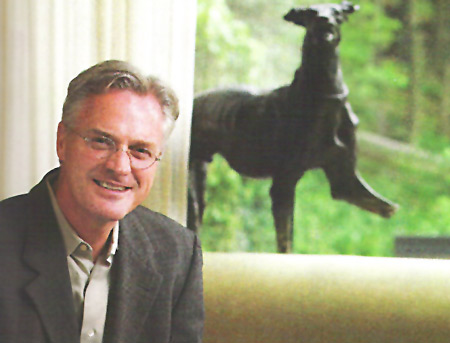 Photo by Bill Youngblood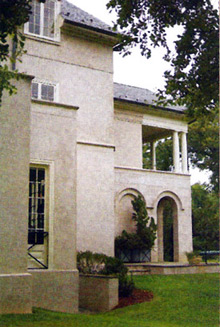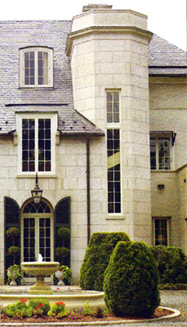 Photos by Patrick Cox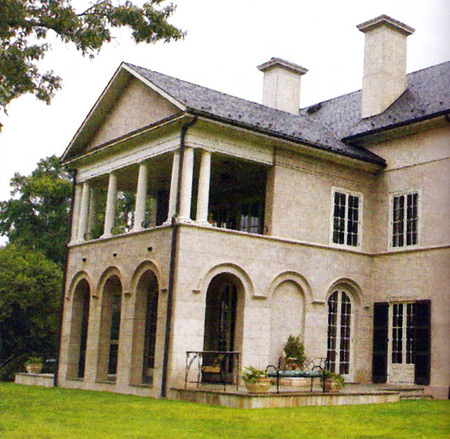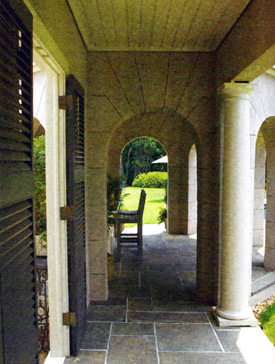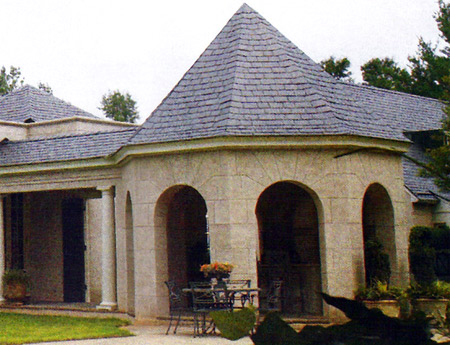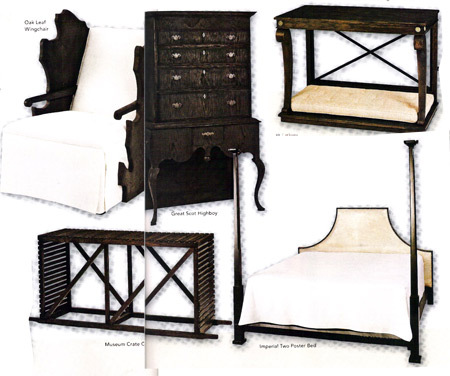 Furniture photos by Suzanne Pruitt of Macrae
Written by Lydia Dishman
IF EYES ARE THE WINDOWS TO THE SOUL, IT STANDS TO REASON THAT OUR BODIES ARE JUST THE METAPHORICAL OUTER WALLS OF A HOUSE.
Continue that line of thinking and the heart of that home can be found, literally, within those four beating chambers and the twists and turns of our brains.
So it is for Bobby McAlpine. the soft-spoken architect, whose every turn of phrase rises and falls with the dulcet breath of Southern cadence, has made a career of what is borne from the internal rooms of his imagination and his clients' desires.
"People ask me all the time, 'What inspires you?' I'm always floored by that because it wouldn't occur to me to be influenced by conditions. I'm inspired more by what is inside and what needs to come out," says McAlpine.
This philosophy is rooted in McAlpine's own childhood, during the years he dreamed his way out of the succession of sawmill towns where he grew up. His career in architecture evolved organically: "When the most fertile ground is your internal life you begin to crave it showing up in your physical life; in something you get to walk in and be in."
Pausing for a reflective moment, McAlpine observes, "That expands your own heart into the world you've shaped," then quips, "keeping up with heart's architecture keeps you agile. It does involve change and moving on."
McAlpine speaks from his own, most recent home in Tennessee, a dwelling he describes as a "little New England colonial by the side of a lake in the woods," and a place he adores. "It's a dream sewn up in cotton."
But dreams are ephemeral and McApline admits that no matter how personally enchanted he is with a home, he never stays in one longer than three years before getting the itch to test new ideas that he's not ready to put out to clients.
"I am in a constant state of re-creation. I start to redecorate and reinvent from inside. I do that a couple of times before I realize I can't put any lipstick on and take it to town," he chuckles. That restlessness has another practical application. "I can enjoy the lessons with no sentimental craving of wanting to keep the place," he explains.
That is not to say that a home shouldn't be true to its owner. However, McApline sees primary homes as going beyond incorporating personal dreams; they are often more about the way others perceive them.
"Mountain or lake houses are more honest," he declares, explaining that when day-to-day living is taken out of the equation, owners can find their greatest love. "They should take that lesson back with them. I always celebrate people electing to notice when they are wandering around in a reality that is not there anymore. It is empowering."
To this he adds, "One ingredient to the success of any home is modesty. It has to occur in some element: it can be the material, scaling, what you don't do. Modesty has to be key no matter how grand the place."
These two ideals dovetail in the home he designed for Greenville residents David and Sherry Poole. It is nothing short of majestic from the exterior. Once inside though, McApline's vision - to endow every room with views out in four directions - serves to make the spaces more intimate while also blurring the boundaries with the landscape.
With a nod to the restorative powers of the Pooles' sweeping 10-acre property framed by tall trees and dotted with a man-made lake, McAlpine confesses he has only been able to accomplish complete directional vistas twice in the 500 homes he's designed.
No matter. Because of his broad client base (the Montgomery-based firm has designed homes across the Southeast) McAlpine's work has run the gamut of placement from urban to rural. In each, the indelible leitmotif of those ideals comes through.
Perhaps it is because the self-professed "romantic, 1920's kind of guy" continues to let the ideas flow directly from his own heart into daily pencil sketches. "I welcome how it gets tilted and twisted in accordance to who I'm with. It is a pretty delicious, ever-changing subject," says McApline.
He's also quick to point out that, for him, good things evolve quickly. "I believe the kinetic process is where real magic happens." McAlpine occasionally designs interiors for clients as well and here, too, he advocates first impressions, as well as shifting and changing.
"I usually have a host present in the room," he explains, "something so big it is actually quiet but presents smaller things." Thus he's fond of long tables or other large pieces that support a changing array of the homeowner's collectibles.
So fond in fact, he's recently designed a new line of home furnishings for MacRae, the firm that also carries his upholstery. McAlpine suggests items in the collection are the "antiques of tomorrow." thus fulfilling both the need to shift things around, and maintaining the integrity of fine craftsmanship worthy of being passed from one generation to the next.
Whether he's talking about the home itself, or its adornments, McAlpine keeps coming back to the heart: "When you really love a place, it is like marrying the right person - you don't try to change everything about it. You have to have a little bit of reverence for what drew you in. Choose smart and tread lightly. If there is enough of the right emotion and spirit then you can have a little faith to let it shape you a little bit."
After a moment of deliberation he adds, "If you are lucky, you find what you are missing in yourself."