In Print
athome Magazine Summer 2013 pp. 78 - 91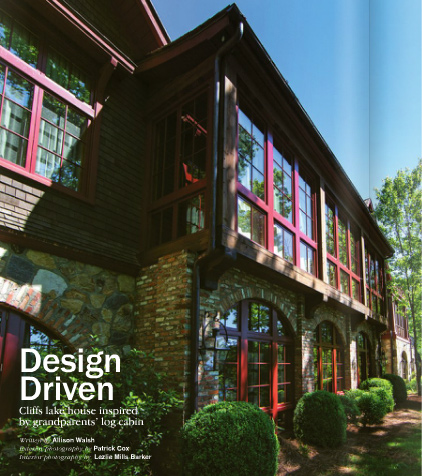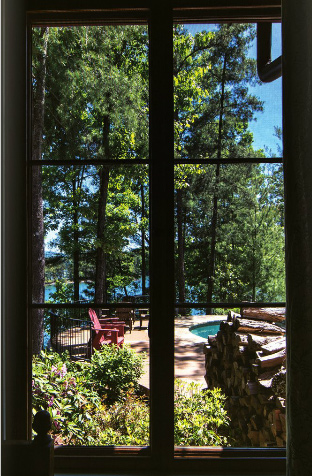 The homeowners credit their builder - The Carver Group - with bringing their vision to life using carefully chosen materials, from reclaimed brick and stone for the exterior to the doors salvaged from a 100-year-old home.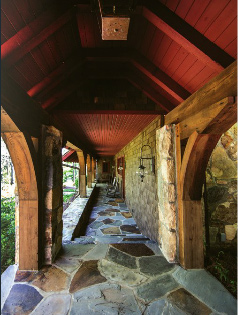 (left)A long covered passageway leads from the garage and courtyard entrance to the main door of the home. (below) the traditional-style shingle used on the home's exterior is reminiscent of the lake house where Kay Stanley spent her childhood summers.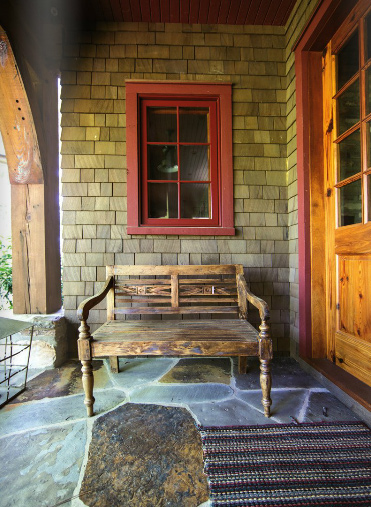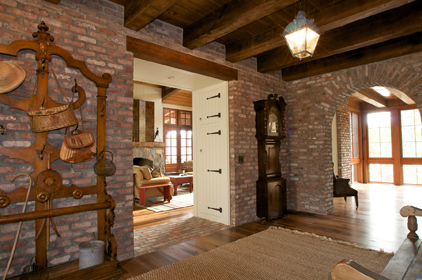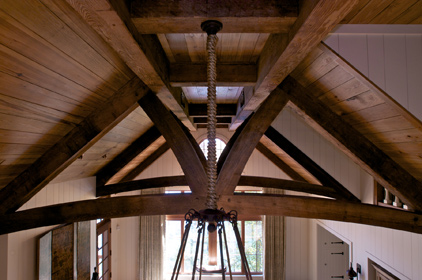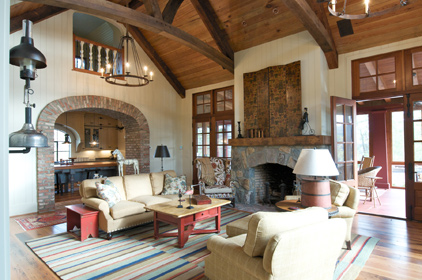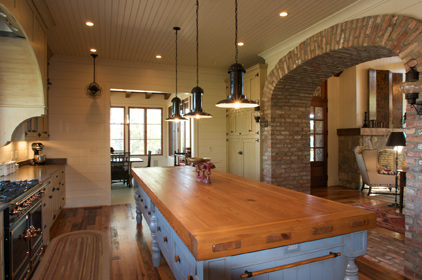 Kay wanted the look of a family lake home that had been added to over time. This was acccomplished by using exterior doors and windows inside, giving the feel of porches enclosed to create indoor living spaces. Reclaimed heart pine beams, mismatched floors, and custom light fixtures built from old gas lanterns further enhance this idea.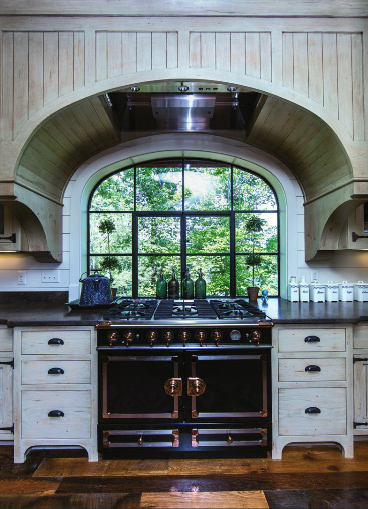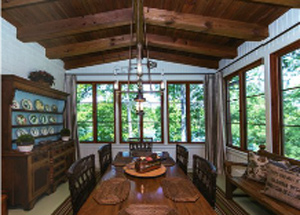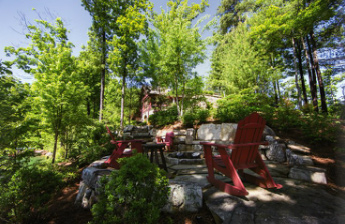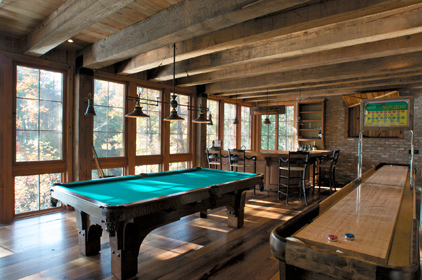 The home's layout brings the man cave front and center - a popular choice among male visitors to the home.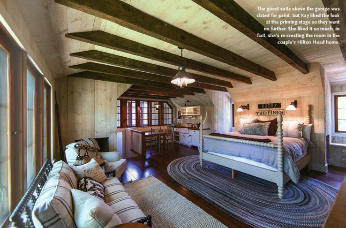 The guest suite above the garage was slated for paint, but Kay liked the look at the priming stage so they went no further. She liked it so much, in fact, she's recreating the room in the couple's Hilton Head home.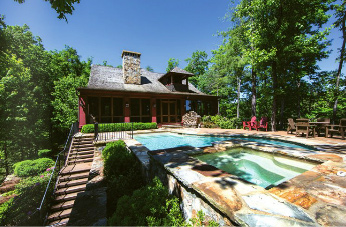 Written by Allison Walsh
Exterior Photography by Patrick Cox
Interior Photography by Lezlie Mills Barker
Design Driven
Cliffs lake house insprired by grandparents' log cabin.
Kay Stanley is not a person easily accused of idle hands. The Kansas city native worked for several years as an art director with various adverstising agencies in her hometown before parlaying her husband's idea for personalized picture frames into a successful scrapbooking supply company.
When Kay and her husband, Curt Seymour, couldn't settle on the mountains or the sea as the setting for their second home, they did what any rational couple might do. They built two second homes - one at Daufuskie Island and the other at The Cliffs at Keowee Falls - at the same time. Even this didn't prove to be enough excitement, and not long after selling the scrapbooking business and "retiring" to Hilton Head, Kay launched Spartina 449, through which she designs and manufactures handbags, scarves and jewelry.
"I told my husband it would be small and he could golf every day," Kay remembers. "Now he comes in to work every day."
Given this history, it's not surprising Kay didn't want to wait a decade or two for her new home at The Cliffs at Keowee Falls to take on the look of a lived-inlake house. Inspired by the Minnesota log cabin where Kay spent her childhood summers, she and Curt selected Summerour Architects out of Atlanta to design a new structure with an old soul, and tapped local builder The Carver Group to bring it to life.
"We built it to look vintage to begin with," Kay says. "We don't want it to feel dated in 10 years, and if it starts out dated you don't have that problem."
Some of Kay's favorite elements from her grandparents' cabin were the mismatched floors and exterior windows that migrated indoors as rooms were added on and porches were enclosed over the years. She credits Carver with helpiung her re-create this feel using a mix of new and reclaimed materials. Exterior materials used in the dining room to give it the feel of a former outdoor area enclosed. Kay so liked the look of one of the guest suites at the priming stage that she requested they go no further with painting. Fireplaces were built with broken, irregular brick. Even a pair of Sub Zero refrigerators is housed within what looks to be an old icebox.
"Homes in general when they're finished look great, but over time they either look worn or they get better," Carver says. "This is a great example of one that looks better as it gets a little age on it."
Kay is especially enamored of the light fixtures. During the dreaming and magazine clipping phase that proceeded the building of the home, she had several times run across the practice of converting old gas lanterns to electric lights but was never able to determine where they came from. She finally tracked down the atrisan in question - an Atlanta woman in her 70s who travels in a van full of parts and pieces and assembles the fixtures from scratch.
Pehaps as consoloation for his unplanned working retirement, the Lake Keowee getaway is "Curt's house." To that end, the home boasts a full shuffleboard table, front yard horseshoe pit, and a billiard room - not tucked away in the basement, but rather greeting visitors near the main entrance.
Kay did insist on cabinets for concealing the televisions when not in use to preserve the home's nostaligic feel, but even she can appreciate the aesthetic of unearthing the man cave.
"That room is probably the most spectacular in the houes," she says.
Curt hosts an annual golf outing at the Keowee house, and Kay and the pup join him there about six times a year. Though Kay laments this is too seldom, they will soon be dividing time between yet another Hilton Head home currently under construction, so it's not likely to get much better. ah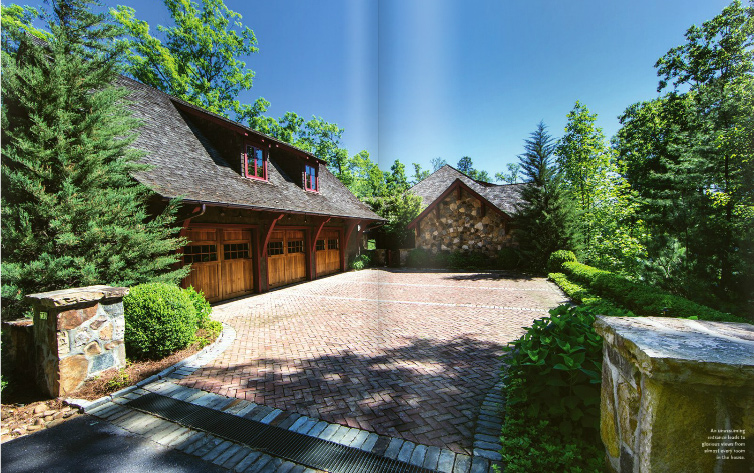 An unassuming entrance leads to glorious views from almost every room in the house.