MEET OUR TEAM
Dino Brunetti - Journeyman Carpenter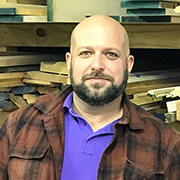 Experience:
21 years experience in carpentry- most in the custom home market.
Started career in downeast Maine, moving along the east coastworking on various projects such as wooden schooners to high rise condos and everything in between with some equally amazing craftsmen.
Self-admitted nerd for the nuances and details that come with every project gravitatin to custom millwork and cabinet fabrication
Personal:
I have four kids, two that our on their own and two that are still in the nest. Having lived in SWFL for the last six years, my wife and I were ready to have more than 1.5 seasons per year and we are both beyond happy that we made the transition to the upstate area.
Interests:
In my down time I can typically be found in my shop trying to hone my furniture making skills and if I'm not making sawdust I'm typically eating, thinking about eating, finding new foods to eat or trying a new recipe of some sort, but in between making saw dust and food. I do enjoy getting outside with my family despite my kids comparing my family outings to field trips.