MEET OUR TEAM
Deitra Page – Office Manager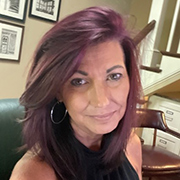 Experience:
30 years of experience in booking and Office Management for various industries.
Personal:
I was born and raised in Greenville and haven't wanted to live anywhere else unless it's on the coast. I have 2 adult children who are my world. I love to spend time with my kids and their significant others or hanging out with my closest friends. I have been blessed with a wonderful family and the best of friends that anyone can ask for and more.
Interest:
Traveling, reading, cooking and college football.