MEET OUR TEAM
Cynthia Owens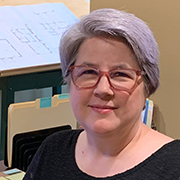 Experience:
A process improvement specialist who spent the last 12 years helping small business owners work more efficiently.
Background in training, project management, and administration.
Has worked with professionals in a variety of industries including: construction, software training, engineering, education, and creative writing.
Personal:
I love spending time with my husband and two cats. When we aren't outside gardening or hiking (my husband and I—not the cats), we're usually inside planning the garden or picking our next travel destination.
Interests:
Veggie gardening, hiking, visiting gardens, reading cozy mysteries, and college football.