MEET OUR TEAM
Art Reifenstuhl - Superintendent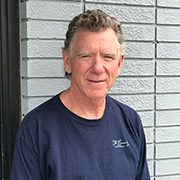 Experience:
40 years of experience in custom homes and all facets of home construction and renovation in Westchester, New York
30 years experience as a lead carpenter supervisor
Personal:
I lived in Westchester County, New York for 61 years and my wife, 2 adult kids, and our Chinese Shar-pei Stryker moved down to South Carolina in 2019 to enjoy the weather and lake life on Lake Hartwell. My family and I have been visiting my sister here in Anderson, SC for 25 years and we've all anticipated making the move south.
Interests:
My sons friends jokingly call me "the most interesting man in the world" because I have so many passionate interests which include competitive waterskiing, barefoot skiing, custom car and truck building, auto painting and fabrication, auto racing, rock crawling, golfing, and hiking.