MEET OUR TEAM
Christy Shaw – Office Manager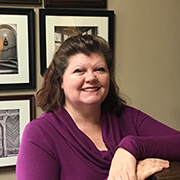 Experience:
30 years of experience in bookkeeping
20 years in office management and HR in various industries
Personal:
I have lived all over but Alabama is my home state. I have 3 adult children: my daughter is active duty Air Force currently training to be a pilot so she can fly a C-130; my oldest son served in the Army and currently works for the government; my youngest son was a vet tech for a few years but now is working in hospitality planning events. I moved to SC in 2019 because I decided many years ago I loved this area and life opened that door for me to make the move and I was right this is a great area to live.
Interests:
I have had dogs my entire life but discovered Ibizan Hounds about 16 years ago. I show my dogs in conformation and also do performance events. I normally attend the Westminster Show in NYC and the National Championship in Orlando. We own a '98 Corvette so I really enjoy attending car events that specifically fund raise for our military veterans.